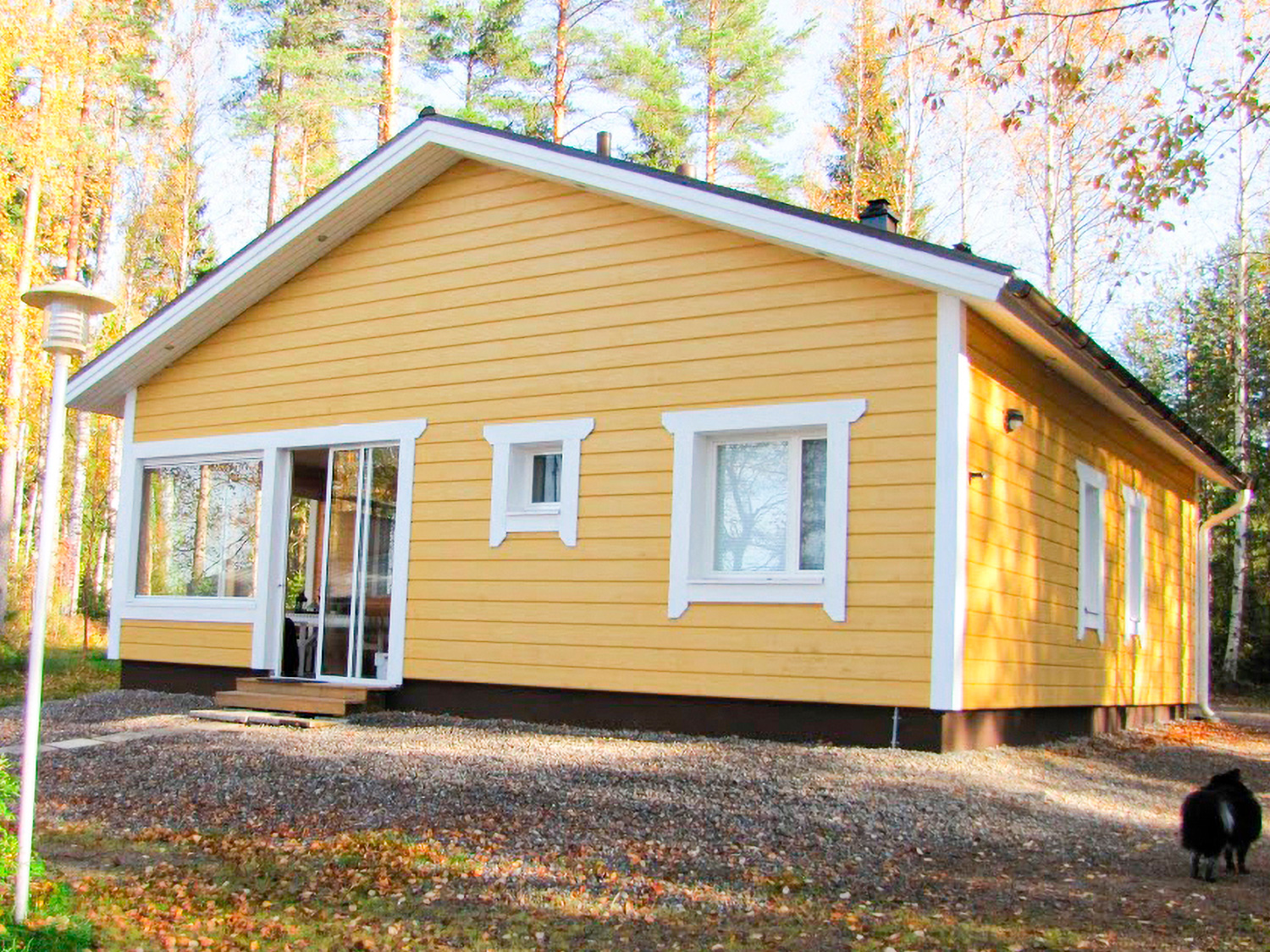 The log cottage built 1978 locates at the shore of Pyhitty Lake in Pieksämäki and is totally renovated in the Spring 2011. This holiday home is fit for winter habitation, spacious, extremely cosy, and fully equipped – including  wireless WiFi. There is room for six persons in the cottage and for two people in the fireplace room in the sauna building. 
"Amazing house in beautiful place"
The cottage is renovated paying regard to the nature, there is for instance geothermal heating at the cottage. Waste heat is being salvaged and recycling is organised.
Sauna is a detached building next to the lake and it has been highly praised by our tenants. It is lovely also for small children to take a dip in the lake: the lakefront is ideal for kids due to the shallow sand bottom.
Pyhitty Cottage is located at a peacefull place at the end of the road. There is about 200 meters to the closest neighbouring cottage and less than 10 km to the center of Pieksämäki.
Awesome possibilities for outdoor activities
There are Watershed Trails (only in Finnish) close to the cottage which offer awesome possibilities for hiking, jogging, mountain biking, and canoeing. Trails are optimal for families with childeren to have the first camping night or for those who don`t have enough strength to hike very far.
Best of Pieksämäki
Kulttuuripappila Sylvi is a Gustavian style rectory building built in 1804, in which in the Summer time operates e.g. attic museum, bookroom, secondhand bookshop, and Summer café. There are also changing exhibitions and courses at the vicarage milieu.
A splendid place for kids to visit from June to August is Nukkekoti – the House of Joonas Aurinko in which one can play and try in various workshops e.g. visual arts, puppet theatre, and playing music.
Since 2002 Big Wheels has grown to one of the biggest open-air automotive round-ups during July in Finland. It's also the premier summer festival of the greater Pieksämäki area. Check more at the Visit Pieksämäki website!
What about a day trip?
It is easy to travel to the neighbouring towns by train or own car. There is about 45 km from Pyhitty to Varkaus – 30 minutes by car – and 80 km to Mikkeli, 95 km to Jyväskylä, and 100 km to Kuopio, each of these trips is about a mileage of an hour. 
The guests at the Booking.com have rated the cottage as Exceptional (9,5).
"It's a very nice mökki. Has everything you need for a family vacation. Our kids even wanted to move there."
"A quiet, cozy place where I really want to return and spend a little more time away from the city bustle."
Check out the photos below.